Wedding Services
So you're getting married? Congratulations!
You'll need pretty wedding signage to catch your guests' attention! Let's showcase your unique love with designs and signs that enhance your wedding experience for your guests and elevate your big day.
Wedding signage is important because...
Your wedding signage provides your guests with the first glimpse of your love story on your wedding day.

Whether your wedding is an intimate ceremony or a large one with over 250 guests, there's so many ways to add a special touch.
From welcome signs to seating charts, bar menu signs to place cards... the possbilities are endless!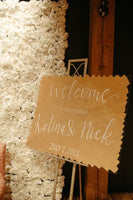 Here's 4 reasons you're gonna love working with me...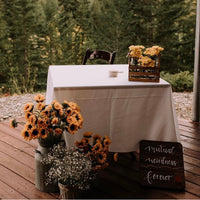 Reason #1: You'll get unique signage you won't find anywhere else.
All wedding signage is handlettered by me so there's no fonts, no stencils or vinyl used. Every word I create & design are personalized just for you and no two wedding signs are the same.
Handlettering stands out from the crowd because it has a human feel, which in turn gives it personality. I'll definitely be able to create wedding signage that captures the aesthetic of your wedding!
Reason #2: You'll skip the stress of running around and trying to DIY everything yourself.
Feeling overwhelmed because you're working, newly engaged, planning your wedding and now you realize that there's just no way you'd have time to DIY those cute place cards you saw on Pinterest?

Don't worry, I've got you!
I'll help you set the tone for your wedding day through cohesive and elegant hand-lettered wedding signs, place cards, menus, and wedding favours so we can skip to the good part: making your Pinterest dreams come true!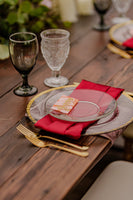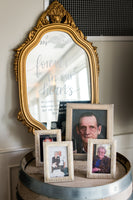 Reason #3: You'll get eco-friendly options. Always.
Planning an environmentally friendly wedding doesn't have be hard and you don't need to skip gorgeous details just to be more eco-concious.

Already have a vintage mirror (or another sentimental item) that you'd love to use for a custom quote sign? Let's letter on it! That way you'll be able to incorporate your mirror in your home after the wedding.
Don't have anything on hand? I also offer rentals (from mirrors to acrylic signs) so you'll have pretty options to choose from and you're also saving the planet!
And reason # 4: You'll work with an artist who specializes in wedding signage.
Lots of calligraphers offer stationery and invitations but I specialize specifically with creating wedding signage for your big day!
This means your signage gets my full attention and I have tons of experience working on all kinds of surfaces, such as: leafy bar menu signs (like this one!), large mirror seating charts, acrylic tabletop signs, agate slice place cards and more!
You name it, we'll letter on it!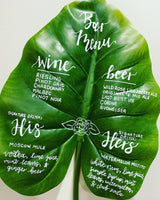 Working with Naomi was a dream! She was easy to reach over Instagram and sent me different options throughout creative discussions! Naomi's work is beautiful and the place cards she made for me were perfect! The colors were exactly what I wanted and her calligraphy skills are amazing! I am so grateful to get to work with her in the future!

Jessie
Let's Make It Personal With A...
- Welcome sign
- Directional Sign
- Order of Events sign
- Guestbook sign
- Hashtag sign
- Cards & Gifts sign
- Seating chart
- Custom quote sign
- Place cards
- Escort cards
- Table numbers
- Hashtag Sign
- Bar Menu sign
- Menu sign
- Dessert sign

+ so much more!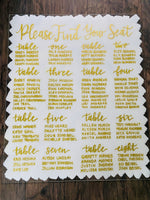 Most popular large sign: A Seating Chart
Seating charts are a wonderful statement piece at your wedding reception and honours each guest by acknowledging them by name.

Because seating charts are often one of the first signs your guests see, why not take this opportunity to personalize their experience?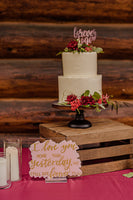 Most popular small sign: A Custom Quote sign
A custom quote sign is the perfect way to add a bit of personality with your favourite catch phrase, movie or book quote, Biblical verse or more!
We'll take what's sentimental to you and make it a huge hit on your special day.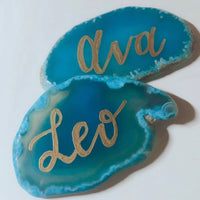 And we can't forget... Place Cards!
Place cards are personalized with each guest's name and can double as wedding favours that your guests can take home after the wedding (double yay!)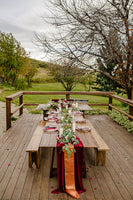 Ready to create your wedding signage?
Time to get started on that one-of-a-kind wedding that will leave your guest speechless. I can't wait to hear from you!

(PS. Not sure what you need? Inquire anyway as I'd love to answer any questions you might have!)


let's get started! >>>
"Naomi did all of our signage for our wedding. Everything was spectacular! She did exquisite hand lettering for our seating chart and a few other details around the reception space (like our welcome sign and bar menu sign). She is so kind and does amazing work. We highly recommend Naomi for any weddings or even a special gift for a loved one. Thank you!"