About
I'm so glad you're here!
I started practicing calligraphy four years ago (because I was determined to create my own wedding signage for my rustic wedding) but I never imagined that it would lead me to creating unforgettable details for unique wedding couples like you!

As a wedding calligrapher and engraver based in Calgary, Alberta, I love helping couples create one-of-a-kind wedding signage.

Signage so beautiful, in fact, that you'll want to hang it in your home for years to come after your big day.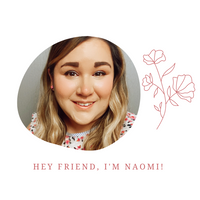 I STARTED LETTER PRETTY tO HELP YOU WITH TWO THINGS...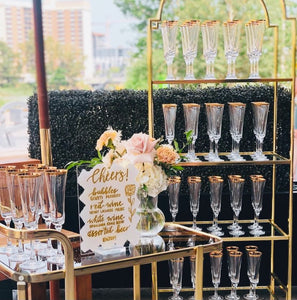 REASON #1:
To help you create that "WOW!" factor that'll knock the socks off your guests at your wedding or impress your guests with your stunning home decor choices (it's all in the pretty little details!)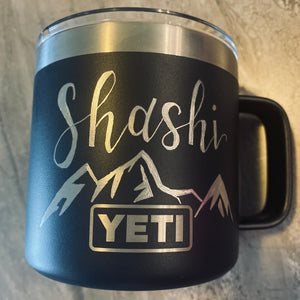 REASON #2:
To create something unique and authentic just for you. I love creating pieces that not only reflect artistry, talent and style but also showcase your uniqueness, your personality (and aspects of your love story if you're getting married!)

I mean, really... who doesn't want a gift that's made specifically for them?!
That's why I work with you to make every letter pretty (pun intended!)
So we're gonna skip the boring cookie cutter art.
Because we're not cookie cutter people.

And we're gonna add a dash of fun, a whole ounce or two of personality and a splash of all things custom and unique!
HERE ARE THE CLIENTS I SERVE WITH MY WHOLE HEART...
1. COUPLES GETTING MARRIED

I'm honoured to work with all couples and celebrate the diversity of all multicultural, interracial, and LGBTQ+ weddings.

As a former bride, I know a lot of couples struggle to balance their schedules and find wedding decor that matches their style.

That's why couples love working with me: I save them time on wedding signage decor so they can spend time planning other aspects of their wedding.

Why not personalize your wedding with custom tailored pieces that give that extra glam vibe you're craving? 


2. THOUGHTFUL GIFT GIVERS

Have an idea in mind that would make the perfect gift? Let's create a custom item wrapped in pretty packaging for your loved one!

Have a unique project in mind and need someone to bring your special project to life? Well, I'm your gal and would love to help you out!

Whether you have a gift in mind for a loved one (or hey, if you're gifting a present to yourself, I'm not judging! #TreatYourself)... I'd love to hear more details about what's on your mind!

3. WEDDING & EVENT PLANNERS

Let's provide the ultimate experience for your clients or your guests! 
You love the details and provide a high-quality service to your clients who expect nothing less than the very best.

Whether you're planning a wedding, bridal shower, birthday, bar mitzvah, gala, cocktail night, or any other event... let's collaborate to create custom decor tailored to your clients' needs!
4. SMALL BUSINESS OWNERS

Shoutout to the local restaurants, bars, and coffee shops... you're the real MVPs that keep us going!

Let's create a fun and visually pleasant experience for your guests!

From custom menu boards to monthly feature signs or even a custom sign (or two!) for your entrance, your clients will be delighted to interact with you when they approach your store.

When I'm not doing calligraphy, I'm probably...
- Drinking a cup of coffee (2 sugars and no cream, always!)
- Taking my puppy for a walk
- Playing Scrabble with my husband and son
- Snacking on peanut M&M's
- Watching the Bachelor/Bachelorette/Bachelor in Paradise with my husband