Engraving Services
Let's give the gift that will last a lifetime
Transform your gift into an engraved keepsake item that your recipient will cherish forever!
Engraved gifts are 100% permanent and engraved by hand with a professional drill in my signature calligraphy style (no laser printers used!)

Your design will be completely original and unique (plus it won't fade or peel and is dishwasher safe! Sounds like a win, right?!)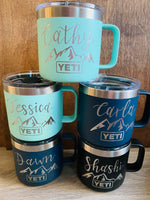 LET'S TRANSFORM YOUR GIFT INTO A KEEPSAKE ITEM
All engraving is done by hand with a professional drill in my signature calligraphy style.

There's no fonts or vinyl whatsoever (you'll never have to worry about your design peeling off or fading over time!) and I'll work with you directly to create a one-of-a-kind custom item that no one else will have... it's a win-win!
HERE'S A FEW IDEAS OF WHAT CAN BE ENGRAVED...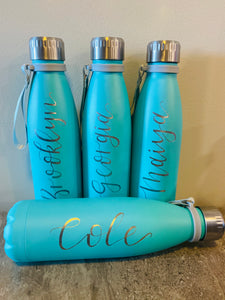 STAINLESS STEEL WATER BOTTLES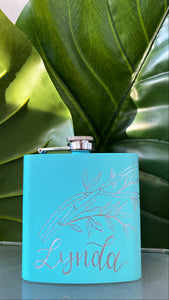 STAINLESS STEEL FLASKS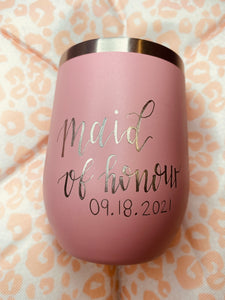 STAINLESS STEEL WINE TUMBLERS
STAINLESS STEEL DOG ID TAGS
BUT THAT'S NOT ALL! I CAN ALSO ENGRAVE ON...
Glass: wine bottles, wine glasses, beer glasses, glass mugs, perfume bottles
Metal: Lipsticks, make up brushes, watches, compasses, etc.
Stone: Ceramic, marble, Gua Sha stone, etc.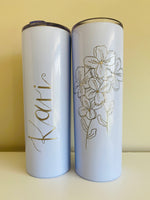 WHAT DESIGNS ARE AVAILABLE?
- A custom phrase or message to your loved one

- Your name, your family name, or a family crest

- A mix of calligraphy words and block letters

- Custom phrases, illustrations and design

Not seeing the option you're looking for? Let's create it!
LET'S create! >>>
"If you're looking for a high quality one-of-a-kind gift, you have to hire Naomi! I ordered a custom engraved water bottle and she took the word *tree* to an entirely new level by creating such an intricate forest design of pretty flowers, tall grass and trees from scratch... so impressed with how it turned out. It was a gift for my daughter and she absolutely loves it!"