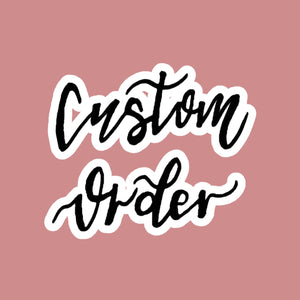 Set of two custom engraved 14 oz. mugs - the perfect size for your morning coffee or tea! Each mug is engraved by hand with your choice of name(s), custom phrase, or design.
**This listing is for a set of two (2) 14 oz. custom engraved mugs with a push-on lid that will be provided by the Client. Client will drop-off and pick-up from Letter Pretty***
Set of two specifics:
- One to be personalized with a mountain design
- One will be personalized with a floral design
RETURN POLICY
Since all items are custom handmade to order, I don't accept any returns or exchanges. If you have a problem with your order or if your order arrives damaged, send me a message and I'll be in touch with you ASAP!
QUESTIONS?
I'd love to help you out! Send me a message and I'll be in touch with you ASAP! Send me an email at
naomi@letterpretty.com