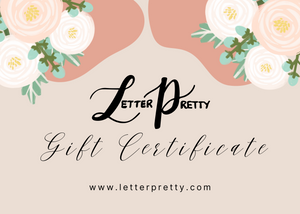 Give the gift of calligraphy & engraving with a Letter Pretty gift card! This is the perfect gift card for your newly
 engaged friend, your friend who loves everything handmade, the new neighbour or just because!
Need help selecting the perfect gift amount?  Contact me here and I'd love to help!
Your gift certificate will be provided to you via email with instructions on how to checkout.
Once your recipient wishes to redeem their gift certificate, they may use it on ANY products available on the site (even for a custom wedding order!) There will be a code the recipient can enter at at check out on the gift certificate (but they can contact me at anytime with questions or if they need assistance!)

Upon your gift certificate purchase, an email will be sent WITHIN 48 HOURS after processing your order.
All current pricing, terms & conditions, product offerings, and standard shipping will apply to the Gift Certificate at the time it is wished to be redeemed. Standard shipping fees will apply to any orders where gift certificates are used, if applicable.
Shipping & rush fees cannot be paid for with this gift card. If gift certificates are purchased in a lesser amount than the  product price it is being redeemed for, the holder may use it as payment towards the total price of their order.
Gift cards do not have any processing fees and all gift certificates and there is no expiry date.